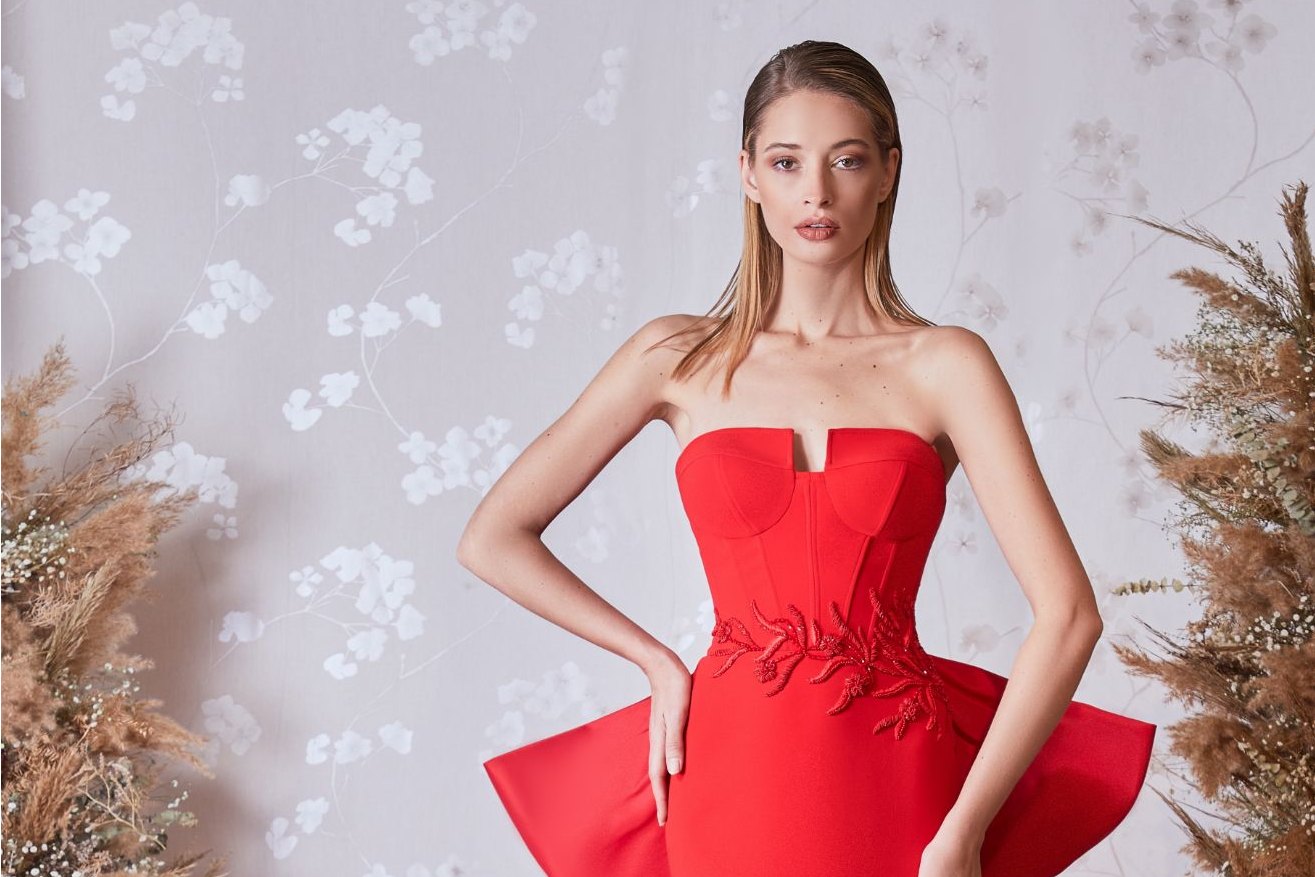 10 Stunning Evening Dress Ideas this Hot Summer
It's time to look and feel the exquisite lady of the night. This summer we will take you to the next level of evening parties, proms, and concerts. Make your appearance unforgettable with a touch of glamour. Your fashion designer Marwan chose for you 10 astonishing dresses to make your presence highly noticeable, alluring, and fascinating. The dresses range from short to full length, bright to dark, and classic to fancy.  In short, the best dresses for all ages and styles.
Foliage Beaded Back-Bow Sweeping Train Dress
A red strapless pencil evening dress expressing seduction, sensuality, and confidence. It shows strength, and reflects positive energy. Its adjusted sweetheart bodice is designed in a unique shape with a natural waistline belted with uneven curved embroidered foliage all over the waist to inspire that intense femininity with a dash of drama. This fitted long dress with a straight narrow cut reveals the beauty of the silhouette since it curves lightly over the hips.
This gorgeous red strapless crepe and taffeta ballgown reveals a top nude corset bodice. A lovely fitted dress shows unique elegance with the exaggerated back-bow that floats on an unconventional over-skirt diamond sweeping train. This dress is perfect for a chic courthouse wedding.
Cascading Ruffled Cady Cape Dress
A green-halter gown with a high neck of Swarovski stones, is made of Cady fabric that  denotes small amount of stretch, often with crepe-like texture, is a perfect fit as bridesmaids dress. This evening dress with an undulating drape of satin, wraps the silhouette from chest to back with an amazing cascading ruffled glossy cape.
This maxi dress with an asymmetric waist slit falls to the floor with a refined sensuality and a tone of drama.
Off-Shoulder Beaded Jewel Neck Gown
An orange evening dress designed with a draped bodice and a long sheer high neck decorated with orange and black in style beads. This elegant off-shoulder full length shift gown with a belt on the waist flows to the floor with an eye-catching front asymmetrical slit. The sleeves puff out lower than the shoulder to gather on the elbow in a fanciful way.
Horizontal Bow Off-Shoulder Champagne Overskirt Evening Dress
Off-shoulder sheath champagne evening dress with a horizontal bow bodice wrapping the shoulder with a large band reaching the elbow from one side to gather on the other side.  A thin belt  defines a normal waistline. This taffeta dress demonstrates a distinctive bow pleated and embellished with scattered Swarovski stones all over.
A beautiful full length overskirt sweep train gives the gown a majestic alluring flow. This champagne evening dress on a tanning skin gives a dazzling royal appearance as a bridesmaid dress.
Blue Draped Bodice Crooked on One Side Over a high-thigh slit and Swarovski Embroidered Sleeves Dress
An amazing boatneck blue navy evening dress with an asymmetrical slit on a draped bodice meticulously crooked on one side to gather on a leaning bow. The side bow opens up again on a high-thigh slit that flows straight down on a full length silhouette. The long bell sleeves have their three quarter in blue and continue in a sheer Swarovski embroidered jewels revealing a fine finishing. With a zipper on a straight back that complements this blue dress and a pair of sky-high stiletto pumps to make your height more alluring.
This sheath dress flows loosely down to the floor, shows a lot of femininity, and is perfect for any formal occasion.
Ivory Organza Off-Shoulder Cape with Semi-Sheer crystal Sleeves
A glamorous off-shoulder black evening dress made with a luxurious crepe that gives it a distinctive appearance. An ivory organza off-shoulder cape is hemmed from the bodice, wrapping the shoulder to gather in a splendid back bow and flow in a chapel train organza. This ivory - black evening dress with long fitted semi-sheer sleeves is decorated with shining crystals from shoulder to wrist giving it a breathtaking advent.
The combination of ivory and black is considered exceedingly a great match together where both are formal and neutral convenient for all occasions in all seasons.
 Briseis Pink floral Lace and crepe with ruffled side slit evening dress
One shoulder Briseis pink floral lace and crepe dress that has an asymmetrical cut and make it look amazingly unique and stylish. This uncommon cut on the bodice ends the natural waistline with a fine pink belt before draping loosely and gracefully to the floor. This full length shift dress present a symmetrical slit with one straight side and another ruffled side that gather on the back with a court train.
This angelic floral lace dress is conservatively pink pastel and can be suitable for all kind of occasions due to its simplicity and contemporary look. Its dignified swirl of an aurora will make you the subject of inspiration at the ball.
Embroidered Illusion Sequined Bodice Long Bishop Sleeves Evening Gown
A royal charming black evening gown with an illusionist top and charming long bishop sleeves that reveal elegance. This masterpiece reflects an overflowing look with gorgeous and stunning details that turn heads. Closed ruffled neck, semi-sheer boning beaded top with banded sheer three quarter bishop  sleeves  and column sequined semi-sheer back slit skirt, an extraordinary piece of art to steal hearts in all occasions.
If you want to be the exquisite lady of the night, this dress can make you look extremely romantic and sensual.
Sleeveless Deep Plunging Feathered Embroidered Highlights Dress
This is a combined feather and floral embroidery gown dress, inspired as a vintage artwork with horizontal highlights. This pink empire waist dress with a deep plunging V-line neck is an elegant bridesmaid dress. A maxi fitted floor length dress that is impressive.
Feathered Floral High Neck Column Dress
A pink sheer illusion floral embroidery gown dress with a simple ribbon wrapped around the waist.
This dress with a ruffled neck is extremely feminine and reveals infinite elegance. It's an appropriate and a stylish choice for a wedding.