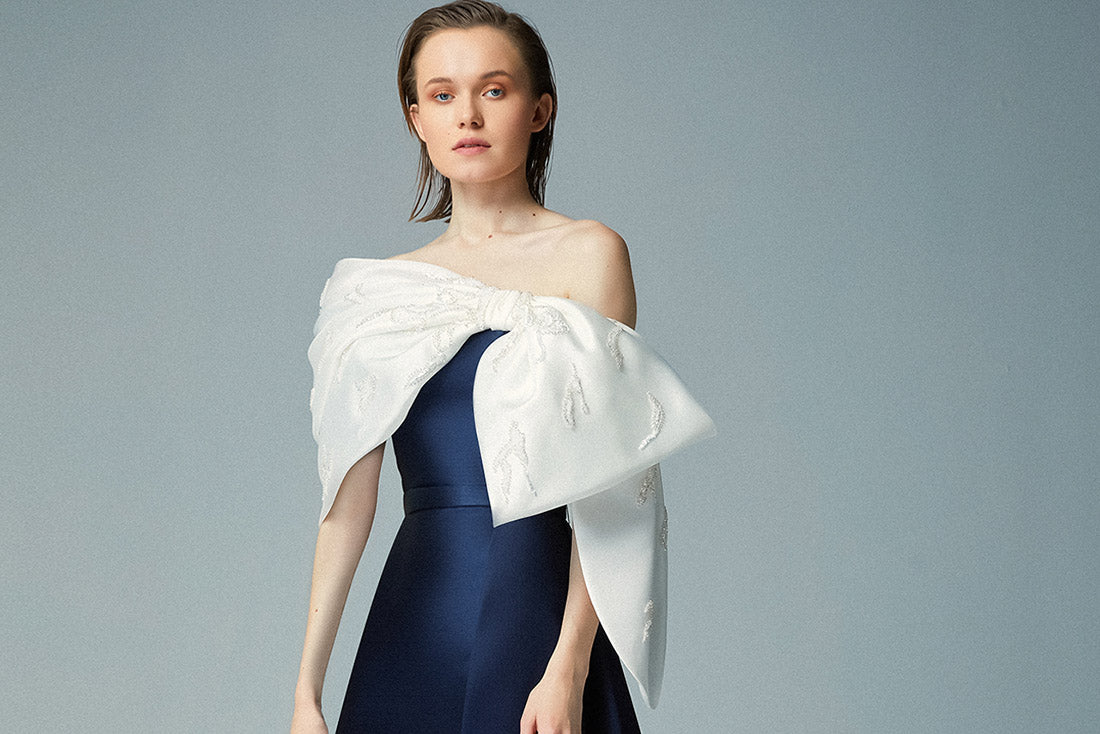 9 Exciting Regalia To Be Photogenic This Season
In the hot night air of summertime, when you go to a ceremony or to an event, passing the dinner table bouquet of blooming flowers, it starts when you aim to leave your signature. You would like people to keep the best photogenic picture of you, you know what I mean. But the impression you will leave is kind of engraved on all your phones friends and family photo's gallery, so what could you make to impress them all.

Make sure to bewitch the crowds with your voguish glance, and keep them wondering who is the breathtaking lady … Serve them with a consistent ravishing and striking gaze.

To do so, we provide you with 9 exciting regalia to strike as being that exhibit.
Ivory Taffetas Bodice, Swarovski Pin Gold & Cady Flared Skirt
Ivory taffetas warmed with gold to reflect upscale luxurious look, a kind of colours' mixture that will reveal you in a loving and magical effect! Spirituality and sacredness realm in an ivory taffetas bodice cross draped on the neckline with an original high and straight seamless collar, a hand-made Swarovski stones pin on one side and circular kimono three quarter sleeves. Voluminous gold Cady flared skirt mollifyingly flowing in a floor length with a side slit and a waist belt.
One-shoulder Crepe Black Evening Dress & Feathered Purple Organza Lurex Long Sleeve
This attire is a mixture of mystery and sophistication that captivate and mesmerises for its distinctiveness! One-shoulder crepe black evening dress flowing congenially in a sweep length to the floor with a side slit and a befitting belt completed with an artsy-craftsy one purple organza lurex long sleeve ornamented with black feathers, attached to a crepe neck collar! Wear it, and you will be remembered for a very long time, that you might become unforgettable!
Swarovski embroidery Sheer Tulle Sleeve & Triple White Sashes of Tulle Cady Navy Blue Evening Dress
Wear like a beauty pageant, win the contest of the night and be the queen of them all!!! A handmade sheer tulle sleeve embroidered with Swarovski crystals and stones overhang on a triple white sashes of tulle that ties under the other shoulder and flow in a sweep side train... These sashes decorate a one-shoulder long satiny navy blue evening dress made from Cady that opens up on the side under the flowing ribbon of the sashes with a high-thigh slit. A breathtaking attire!
Sweetheart Pastel Patchwork Fabric Print Evening Dress & Back Bow Tie Aqua Teal Tulle
A mosaic of Patel colors, quited and softened character of millennial pink, light azure, creamy mint and whimsy yellow. Sweetheart Pastel Patchwork fabric print evening dress with a high-thigh asymmetric slit, and a back bow tie aqua teal tulle that flows into a bewitching train!!! Mellow and clement appearance!
Off-shoulder Aqua Teal Tulle & Embroidered Pastel Patchwork Fabric Print Evening Dress
This tone is revealing softness and tranquility like a breeze feel coming, and you are Going to be that breeze! Off-shoulder wrapped aqua teal tulle assembled in a back bow tie that flows into an eye-opening train with an enchanting Pastel Patchwork fabric print evening dress finely embroidered.
Off-shoulder Sweetheart Lilac Sequinned Evening Dress, Feathered & Over-skirt
This Dalhia pattern of sequins is just coquettish for a lollapalooza event attire to just amaze! Off-shoulder sweetheart lilac sequined column evening dress, feathered on the sleeves, with high-thigh slit and an over-skirt panel tulle train...
Off Shoulder Navy Blue Cady Evening Dress, Triple Off-white Organza Bow & Over-skirt
Majestic and dignified! Get an aura of sensuality and composed tone with this off-shoulder navy blue Cady column evening dress coupled with a triple off-white organza bow tied on both shoulders with a navy blue ribbon and Swarovski crystals and gems embroideries. Upraised by this unique triple off-white organza over-skirt and Swarovski embroidery to add gallantry and refinement to the Silhouette!
Embroidered Triple Off-white Organza Bow Tie of Navy Blue Cady Evening Dress
Gracious with triple off-white organza bow tie on an off-shoulder neckline, embroidered with floral Swarovski crystals and gems sewn on a navy blue Cady evening dress. With the Cady navy blue belt on the waist, this dress looks candid and well-defined before it draped loosely and gracefully to the floor! The voluminous skirt is generously tumbling in a sweep train making this outfit extraordinary first-class.
Sleeveless Deep Plunging Feathered Embroidered Highlights Dress
This is a combined feather and floral embroidery gown dress, inspired as a vintage artwork with horizontal highlights. This pink empire waist dress with a deep plunging V-line neck is an elegant bridesmaid dress. A maxi fitted floor length dress that is impressive.